Become a Lord or Lady of the Glen*
The Amazing Gift of Scottish Land
What you get:
A real plot of land in Scotland*
Become a Lord or Lady of the Glen**
Luxury gift pack & AMAZING Augmented Reality app
Instant digital product for last-minute shoppers
Plus, enjoy FREE worldwide shipping!
25% off everything with code
HT25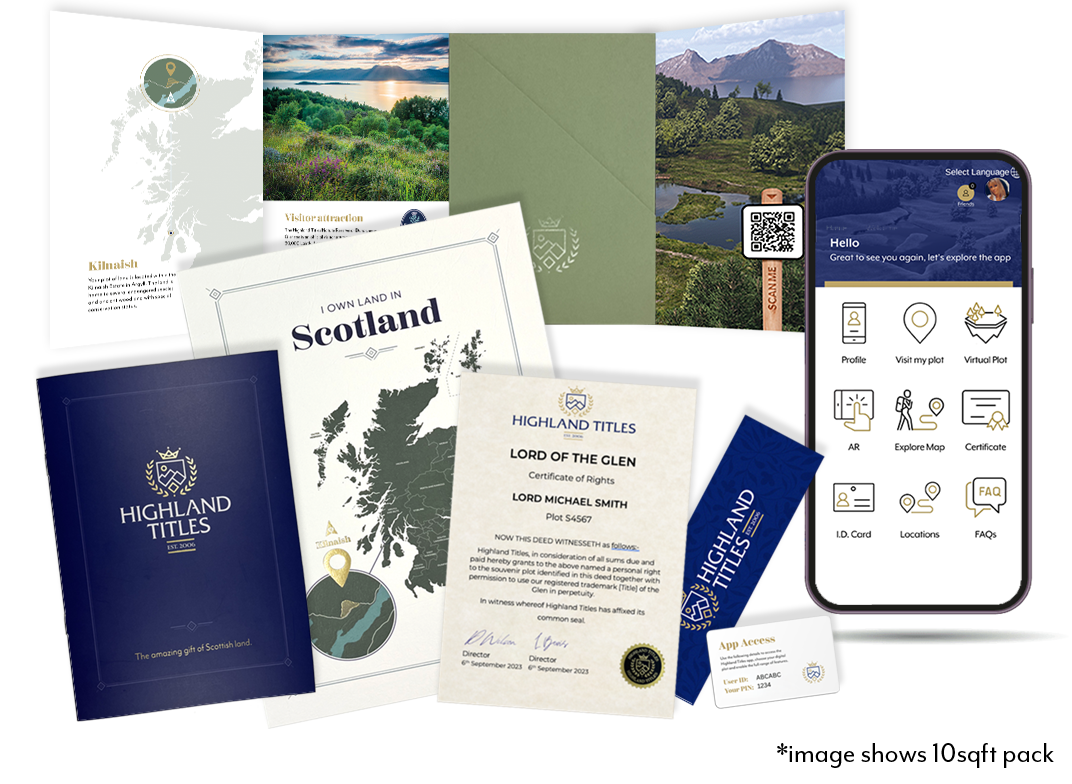 Become a Lord or Lady –
The Amazing Gift of Scottish Land
The Amazing Highland Titles App
Our amazing Augmented Reality app allows you to:
Explore a 3D replica of our nature reserve at Duror, near Glencoe
Choose a digital plot and decorate it with castles, national flags and more
Adopt an augmented reality animal from our nature reserve (yes, it speaks!)
Use camera filters to add special effects
…and much more!
Highland Titles has 4 nature reserves across Scotland, including…
The Highland Titles Nature Reserve at Duror, near Glencoe – an official 4* tourist attraction which features our Guinness® World Record-Breaking Bug Hotel!
The Kilnaish Estate – 300 acres on the Kintyre Peninsula with a Special Area of Conservation (SAC) and Site of Special Scientific Interest (SSSI)
Glen Nant – 130 acres of ancient oak woodland, known as Scotland's rainforest, which has obtained National Nature Reserve Status
Mountainview – 180 acres of land with absolutely stunning views, roughly 20 miles from the iconic Loch Ness.