41st Wedding Anniversary: Gift, Symbols & Ideas
So you are celebrating your 41st wedding anniversary? What a wonderful achievement and yet another milestone to celebrate in your long-lasting relationship! Though it can be overshadowed by the previous anniversary celebration – the ruby wedding is particularly exciting – don't let it diminish this year's importance.
Congratulations are in order for this huge accomplishment, forty-one years together is truly special. We should take this opportunity to show our admiration for our loved ones and help them to celebrate by treating them to a meaningful and thoughtful gift that they are sure to treasure and remember forever.

41st Wedding Anniversary Name, Meaning and Symbol
Whereas the first 15 wedding anniversaries have very specific symbols, items, gemstones and flowers associated with each occasion, these become less clear or abundant as the marriage years go by. This is exactly the case with the 41st wedding anniversary – but whilst there are no famous symbols or items, there is a rather unusual theme: land!
After 41 years of marriage, the couple might be thinking about moving home or investing in a retirement property, but this doesn't have the same romanticism or appeal that some other gifts have, which are generally keepsakes, rare or precious in some way. For this reason, land can also represent all that the couple have achieved together, the landscape they have built over the years, and the future that awaits them together.
The Modern 41st Wedding Anniversary Gift
A literal and meaningful interpretation of this milestone is the actual gift of land – however, most people cannot afford to give land, or can they? With Highland Titles, you can buy a souvenir plot of land in Scotland, which you can visit anytime and even pass it on to future generations, from only £30.
On top of gifting them the quintessential thematic gift, you would be giving them the chance to style themselves as Laird, Lord or Lady of the Glen and support a unique conservation project in the Scottish Highlands. And if you want to make it extra special, with our exclusive Couple Plots, you can treat them to two 1sqft adjoining plots, so they can both have a dedicated space while still being together.
1 sqft plot
£30.00
(£30.00 per sqft)Buy Plot See what the giftpack contains
1sqft plot of land in Highland Titles Kilnaish Estate near Tarbert on the west coast of Scotland
You may style yourself as Laird, Lord or Lady of the Glen
Presentation folder, personalised certificate, information booklet and plot ID card
VIP Membership
41st Wedding Anniversary Flower
There's no specific flower associated with the 41st wedding anniversary; however, flowers come from land after all! So, if you are up for a less literal interpretation of the theme, flowers can make a meaningful and thoughtful gift. If you are looking for a particular flower variety, Nasturtiums are traditionally associated with 40th wedding anniversary and another flower type is only introduced at the 50th anniversary, so it could be argued that this versatile and pretty flower is a good choice for the decade in-between!
41st Wedding Anniversary Gem
Alike flowers, there is also no dedicated gem for a 41st wedding anniversary – but appropriately, they also come from the land. If you like the idea of being creatively inspired by the theme but not following it too literally, gems and jewellery make for the perfect long-lasting memento of the occasion. Again, if you are looking for gem inspiration, ruby is the gem traditionally associated with the 40th wedding anniversary. Interestingly, topaz seems to be the gemstone of choice as a traditional 41st-anniversary gift in Spain and Italy, so perhaps even more fitting if you have a connection or affinity with one of these countries?

Other 41st Wedding Anniversary Gift Ideas
At the risk of being biased, we still believe that actually giving a plot of land would be the best, most unique and meaningful way of marking the occasion. However, given the broadness of the theme, you can still draw connections to other gifting inspirations, such as gardening or travelling, for example.
Look no further than the couple's own back garden for some gifting ideas: a new garden furniture set, plants or pots, tools and equipment, or even a gift voucher for a garden centre could all be thoughtful presents. If the couple are globetrotters, consider arranging a special vacation, a nature short break, an adventure day, or a location visit.
41st Wedding Anniversary Gifts For Him
Owning a souvenir plot of land in Scotland and having the right to style themselves as Lord or Laird of the Glen is sure to thrill that special man in your life whilst being a gift truly representative of the theme. If you wish to enjoy the land, without buying it, why not organise a picnic or barbecue to enjoy the outdoors? Consider treating him to a golf game or joining him in some gardening endeavours.
41st Wedding Anniversary Gifts For Her
Becoming a Lady of the Glen and owning a wee bit of Scottish land is a truly unique and thoughtful gift for the occasion. However, other land-related gifts that will please the special lady in your life might include gemstone jewellery, an escape to the country, or an organised outdoor date.
41st wedding anniversary gifts for parents
You can make your parents a Lord and a Lady, and get them their own plots of land near to each other in Scottish Highlands. This would be an exclusive and symbolic gift for parents for their 41st wedding anniversary. In addition, they can always have a nice getaway in Highlands to see their plots and celebrate.
Whilst marking the occasion with a meaningful and unique gift may help the happy couple to remember this huge accomplishment forever, this date should be about celebrating their love, romance and lives together! That they may continue to enjoy life's journey happily together and, hopefully, the perfect land anniversary gift.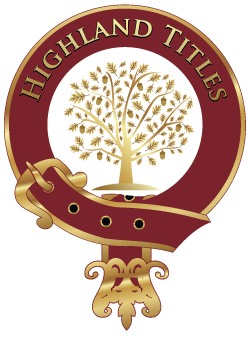 Brought to you by Highland Titles
Highland Titles' mission is to conserve Scotland, one square foot at a time™. By selling souvenir plots of land, we are funding our Nature Reserves and conservation projects. Join us and become a Lord, Lady or Laird* of the Glen!