Scottish Munros (Challenge yourself to bag all 282!)
Munros are mountains which are found across Scotland, named so after the mountaineer Sir Hugh Munro who first compiled a list of them.
Whilst Scottish Munros may be modest in height in comparison to some of the continental ranges, climbing them can be particularly treacherous on account of the latitude and Scottish weather. However, if you do reach the summit of pretty much any of the Munros, we can guarantee it will be worth your while as you will be rewarded with some of the most stunning views in the world!
These Munros are scattered all over Scotland, from Ben Lomond in the South to Ben Hope in the north, and Sgurr na Banachdich in the west to Mount Keen in the east, and they offer no end of challenging and immensely enjoyable days out, in all seasons. Bagging one of these impressive Scottish mountains is something every walker should tick off their 'must-do' list.
How high are Munros?
In order to be classified as Munros, hills must be over 3000 feet or 914.4 metres high. They also must have been deemed to have "sufficient separation" from their neighbouring peaks. There are a number of other names used to classify mountains by the Scottish Mountaineering Club. These are:
Corbetts – defined as Scottish mountains between 2,500–3,000 feet in height.
Grahams – defined as Scottish mountains between 2,000–2,500 feet in height.
Donalds – defined as Scottish Lowlands mountains over 2,000 feet in height.
How many Munros are there in Scotland?
There are in total 282 Munros across Scotland. There are also 227 Munro Tops, which are lesser peaks, which are also over 3,000 feet but are lower than the nearby primary mountain, bringing the total number of summits over 3000 ft listed by the Scottish Mountaineering Club to 509.
The highest Munro is Ben Nevis at a whopping 4,411 feet. However there are a number of lower, but arguably more challenging Munros to climb, such as the 12 peaks of the Black Cuillin on the Isle of Skye and the UK mainland's narrowest ridge walk, the Aonach Eagach, which is in Glen Coe.
Sir Hugh Munro
Sir Hugh Thomas Munro, 4th Baronet was a Scottish mountaineer who was born in 1856. He was brought up on his family estate of Lindertis Angus, Scotland, and went on to become an avid hillwalker, and was a founder member of the Scottish Mountaineering Club in 1889.
In the 6th issue of the Scottish Mountaineering Club Journal in 1891 he published a list of all of the mountains in Scotland over 3000 feet. This list caused much surprise in mountaineering circles, as until his list was produced many thought that the number of mountains exceeding this height was around 30, rather than the nearly 300 that he listed. These peaks are now known around the world as Munros after Sir Hugh.
Despite it becoming a popular hobby to attempt to climb all the Munros listed, Sir Hugh never actually managed to complete them all himself- although he did get blinking close! Of his original list he failed to climb one mountain in the Cairngorms (Carn Cloich-Mhuillin) which he was saving to be his last climb, and then on his deathbed he revised his original list to include 2 more peaks, leaving him 3 short of completing the entire list in his lifetime.
Map of Munros
CLICK HERE to see an interactive map of Scotland, where you can the select each of the mountain icons on the map to find information such as heights, routes and maps for every Munro in Scotland.
Munro Bagging
"Munro bagging" is the activity of climbing all the listed Munros. As of 2 July 2020, 6,768 people had reported completing a round. You can claim to "bag" a Munro by reaching it's summit.
A walker who has climbed all 282 Munros is entitled to be called a Munroist, or a Compleater.
Revd A E Robertson was the first to complete an entire round of the Munros in 1901. The final mountain he reached was Meall Dearg (on the Aonach Eagach) – where the Revd famously kissed first the cairn, and then his wife. In 1923 another Reverend, Ronald Burn, became the second Munroist as well as the first person to climb all the subsidiary Tops.
The real explosion in the popularity of Munro-bagging came in the late 1980s and today the numbers are huge.
If you think you would like to add your name to the list of thousands of Munroists, there is no better place to start than this Walkhighlands website, where you can find a detailed, independently-researched guide to the ascent of every Munro and have the opportunity to record all your Munro ascents here on your own interactive baggers map.
Notable completions
Steve Fallon from Edinburgh has completed 16 rounds of all the Munros as of the 1st October 2019, making him the person with the record for the most rounds.
The youngest person to complete a round is believed to be Ben Fleetwood who climbed the final Munro of his round at the age of just 10 years and 3 months on the 30th August 2011.
Ronald Burn, who completed his round 1923 was also the first person to climb all the Munro Tops.
Chris Smith became the first Member of Parliament to complete the Munros when he reached the summit of Sgùrr nan Coireachan on 27 May 1989.
Hamish Brown is known for being being the first person to walk all the Munros in a single trip with only ferries and a bicycle as means of transport, starting a trend of attempting what is now known as a continuous round.
The first reported completion of all the Munros plus the Munro Tops in one continuous expedition was by Chris Townsend. His trip lasted 118 days in 1996.
The first person to complete all the Munros in one winter season was Martin Moran in 1984/85, and this feat became known as a winter round.
The current record for a self-propelled continuous round was set by Alex Robinson and Tom O'Connell on the 18th September 2011, when they finished in an impressive time of 48 days, 6 hours and 56 minutes.
Furths
The SMC recognises six peaks in England, fifteen in Wales and thirteen in Ireland that would be Munros or Munro Tops if they were in Scotland. These are referred to as Furth Munros, i.e. the Munros furth of Scotland.
Munros Safety
Whilst some Munros are more difficult to climb then others, there is no such thing as an easy Munro- I mean, where would the fun be in that! It is important to make sure that you are adequately prepared for your ascent and that means making sure that you have these items of essential equipment with you:
Most importantly, a good pair of walking shoes/boots.
Dress in lightweight layers and waterproof clothing to stay dry and warm.
Take a map of the local area, ideally with your intended route marked out.
A compass- bear in mind that you may lose phone signal as you climb higher so the old fashioned kind is best!
A torch, even if you plan of climbing in daylight hours, good visibility up the Munros is not always guaranteed with the ever changing Scottish weather.
A first aid/safety kit in case of any accidents.
Lots of water and enough food to keep you sustained even if your return is delayed.
Once your bag is packed, make sure you know your routes, check the weather before you leave, and make sure you know how to properly navigate using a map and compass. Be honest with yourself about your ability level, and don't take risks, if the weather is horrendous or if you have a minor injury, wait for another day. Be sure to tell somebody where you a going, the route your are taking and an estimated return time, so that help can be sent for if something goes wrong.
Munros for Beginners
1. Ben Lomond
Located in The Trossachs National Park and overlooking Loch Lomond, Ben Lomond is one of the most popular Munros for first time climbers. Despite standing at an impressive 3,195 ft, it's ascent is one of the least daunting of all the Munros as it has a wide clear path which rises gradually all the way to the summit.
Ben Lomond is easily accessible being the most southerly of all the Munros and located only an hour and a half away from Glasgow. The climb up and down usually takes around 4 to 5 hours, thats if you can drag yourself away from the impressive views at the summit of the length of Loch Lomond and its islands to return home!
2. Mount Keen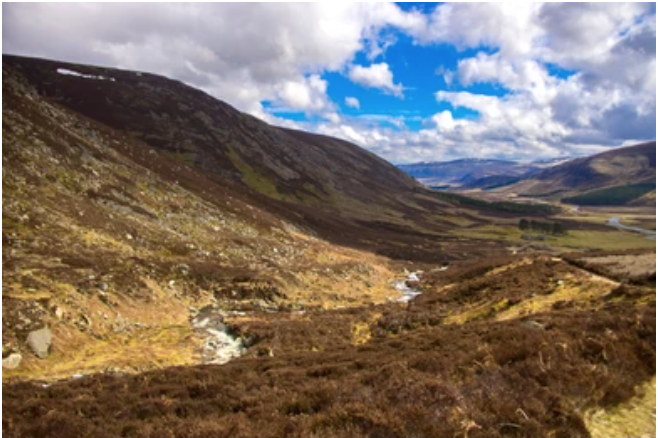 Mount Keen is widely regarded as one of Scotland's easiest Munros, and is especially recommended for a clear day when the sheer scale of remote country scenery can be fully appreciated. It is the most easterly of the Munros, appearing as a gentle cone rising above the great plateau of the eastern Mounth.
There are 2 straightforward routes that can be taken up Mount Keen, the route from Glen Tanar to the north is longer than the route up through Glen Mark in Angus, but both have good clear paths and a gentle incline with good going underfoot.
3. Ben Lawers
Despite being one of the tallest summits in Scotland, Ben Lawers is arguably one of the easiest to complete, part of the reason for this being the starting point of the climb. The car park for the walk up Ben Lawers sits above sea level, meaning that a sizable chunk of the mountain's 3,983 ft ascent is already behind you before you even set foot on its slopes. The mountain is located to the north of Loch Tay in Perthshire and sits in a rich area for Munro bagging – its summit is on a long ridge that contains no fewer than seven of these mountain tops.
Popular Munros
1. Ben Nevis
Attracting an impressive 125,000 walkers a year, Ben Nevis is one of the world renown Munros and is the tallest mountain in the British Isle, standing at a whopping 4,413 feet high. Ben Nevis stands at the western end of the Grampian Mountains in the Lochaber area of the Scottish Highlands, close to the town of Fort William.
It will usually take between 7-9 hours to climb Ben Nevis, although the weather and your level of fitness will play a part in exactly how long it takes. It was in fact once a massive active volcano which exploded and collapsed inwards on itself millions of years ago.
The name Ben Nevis has two translations from the ancient Gaelic language, one meaning 'mountain with it's head in the clouds', thanks to its iconic mist-shrouded peak, or it can also mean 'venomous mountain' – we'll leave it up to you to decide which is more appropriate after you have climbed it!
2. Sgurr nan Gillean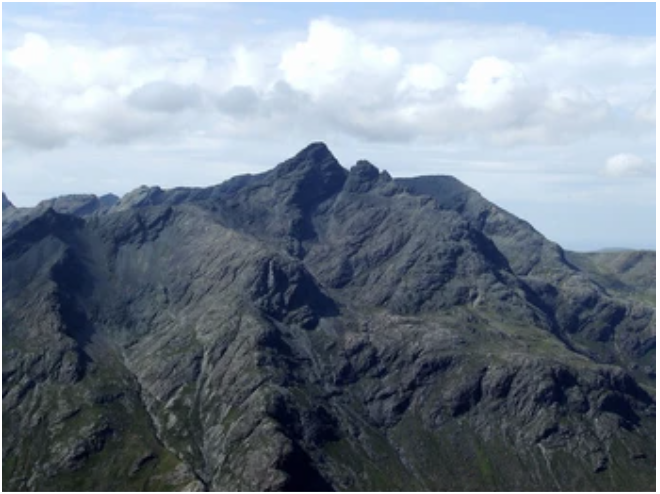 Sgurr nan Gillean on the Isle of Skye is perhaps the most famous of the Cuillin peaks and regarded by many as the finest- a popular route with a difficult scramble to the summit and fantastic views at all times. This is definitely not one of the Munros suitable for inexperienced walkers as even the easiest ascent via the southeast ridge is a fairly serious scramble – the other two ridges edging into the realm of rock climbing. But if you have the ability to, it is well worth a trip to the top; the summit views are truly outstanding and perfectly placed to admire the Red Cuillins and Blaven.
3. Schiehallion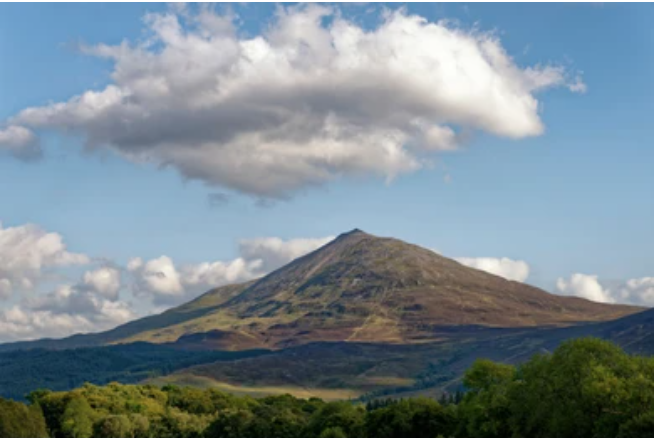 Sometimes described as the centre of Scotland, Schiehallion is one of the most familiar and best known mountains in the country, and is the 4th most climbed of all the Munros. It's located in Perth and Kinross, in Scotland and it appears as a perfect cone when seen from across Loch Rannoch. Whilst it is generally regarded as an easy ascent, the popularity of this mountain has meant that the main path had become exceedingly eroded by the volume of walkers.
Complete List of Scottish Munros
| Mountain | Region | Altitude |
| --- | --- | --- |
| A' Bhuidheanach Bheag | Cairngorms | 936m |
| A' Chailleach | Ullapool | 997m |
| A' Chailleach (Monadhliath) | Cairngorms | 930m |
| A' Chralaig | Kintail | 1120m |
| A' Ghlas-bheinn | Kintail | 918m |
| A' Mhaighdean | Ullapool | 967m |
| A' Mharconaich | Cairngorms | 975m |
| Am Basteir | Islands | 934m |
| Am Bodach | Fort William | 1032m |
| Am Faochagach | Ullapool | 954m |
| An Caisteal | Loch Lomond | 995m |
| An Coileachan | Ullapool | 923m |
| An Gearanach | Fort William | 982m |
| An Riabhachan | Loch Ness | 1129m |
| An Sgarsoch | Cairngorms | 1006m |
| An Socach (Affric) | Loch Ness | 921m |
| An Socach (Braemar) | Cairngorms | 944m |
| An Socach (Mullardoch) | Loch Ness | 1069m |
| An Stuc | Perthshire | 1118m |
| Aonach Air Chrith | Kintail | 1021m |
| Aonach Beag (Alder) | Cairngorms | 1116m |
| Aonach Beag (Nevis Range) | Fort William | 1234m |
| Aonach Meadhoin | Kintail | 1001m |
| Aonach Mor | Fort William | 1221m |
| Beinn a'Bhuird | Cairngorms | 1197m |
| Beinn a'Chaorainn (Cairngorms) | Cairngorms | 1082m |
| Beinn a'Chaorainn (Glen Spean) | Fort William | 1050m |
| Beinn a'Chlachair | Fort William | 1087m |
| Beinn a'Chleibh | Argyll | 916m |
| Beinn a'Chochuill | Argyll | 980m |
| Beinn a'Chreachain | Argyll | 1081m |
| Beinn a'Chroin | Loch Lomond | 942m |
| Beinn Achaladair | Argyll | 1038m |
| Beinn an Dothaidh | Argyll | 1004m |
| Beinn Bheoil | Cairngorms | 1019m |
| Beinn Bhreac | Cairngorms | 931m |
| Beinn Bhrotain | Cairngorms | 1157m |
| Beinn Bhuidhe | Argyll | 948m |
| Beinn Chabhair | Loch Lomond | 933m |
| Beinn Dearg (Blair Atholl) | Perthshire | 1008m |
| Beinn Dearg (Ullapool) | Ullapool | 1084m |
| Beinn Dorain | Argyll | 1076m |
| Beinn Dubhchraig | Argyll | 978m |
| Beinn Eibhinn | Cairngorms | 1102m |
| Beinn Eunaich | Argyll | 989m |
| Beinn Fhada | Kintail | 1032m |
| Beinn Fhionnlaidh | Argyll | 959m |
| Beinn Fhionnlaidh (Carn Eige) | Loch Ness | 1005m |
| Beinn Ghlas | Perthshire | 1103m |
| Beinn Heasgarnich | Perthshire | 1078m |
| Beinn Ime | Loch Lomond | 1011m |
| Beinn Iutharn Mhor | Cairngorms | 1045m |
| Beinn Liath Mhor | Torridon | 926m |
| Beinn Liath Mhor Fannaich | Ullapool | 954m |
| Beinn Mhanach | Argyll | 953m |
| Beinn Mheadhoin | Cairngorms | 1182m |
| Beinn na Lap | Fort William | 937m |
| Beinn nan Aighenan | Fort William | 960m |
| Beinn Narnain | Loch Lomond | 926m |
| Beinn Sgritheall | Kintail | 974m |
| Beinn Sgulaird | Argyll | 937m |
| Beinn Tarsuinn | Ullapool | 937m |
| Beinn Teallach | Fort William | 915m |
| Beinn Tulaichean | Loch Lomond | 946m |
| Beinn Udlamain | Cairngorms | 1010m |
| Ben Alder | Cairngorms | 1148m |
| Ben Avon | Cairngorms | 1171m |
| Ben Challum | Argyll | 1025m |
| Ben Chonzie | Perthshire | 931m |
| Ben Cruachan | Argyll | 1126m |
| Ben Hope | Sutherland | 927m |
| Ben Klibreck | Sutherland | 961m |
| Ben Lawers | Perthshire | 1214m |
| Ben Lomond | Loch Lomond | 974m |
| Ben Lui | Argyll | 1130m |
| Ben Macdui | Cairngorms | 1309m |
| Ben More | Loch Lomond | 1174m |
| Ben More (Mull) | Islands | 966m |
| Ben More Assynt | Ullapool | 998m |
| Ben Nevis | Fort William | 1345m |
| Ben Oss | Argyll | 1029m |
| Ben Starav | Fort William | 1078m |
| Ben Vane | Loch Lomond | 915m |
| Ben Vorlich (Loch Earn) | Perthshire | 985m |
| Ben Vorlich (Loch Lomond) | Loch Lomond | 943m |
| Ben Wyvis | Loch Ness | 1046m |
| Bidean nam Bian | Fort William | 1150m |
| Bidein a'Choire Sheasgaich | Torridon | 945m |
| Bidein a'Ghlas Thuill (An Teallach) | Ullapool | 1062m |
| Binnein Beag | Fort William | 943m |
| Binnein Mor | Fort William | 1130m |
| Bla Bheinn | Islands | 928m |
| Braeriach | Cairngorms | 1296m |
| Braigh Coire Chruinn-bhalgain | Perthshire | 1070m |
| Broad Cairn | Cairngorms | 998m |
| Bruach na Frithe | Islands | 958m |
| Bynack More | Cairngorms | 1090m |
| Cairn Bannoch | Cairngorms | 1012m |
| Cairn Gorm | Cairngorms | 1245m |
| Cairn of Claise | Cairngorms | 1064m |
| Cairn Toul | Cairngorms | 1291m |
| Carn a'Chlamain | Perthshire | 963m |
| Carn a'Choire Bhoidheach | Cairngorms | 1118m |
| Carn a'Gheoidh | Cairngorms | 975m |
| Carn a'Mhaim | Cairngorms | 1037m |
| Carn an Fhidhleir (Carn Ealar) | Cairngorms | 994m |
| Carn an Righ | Perthshire | 1029m |
| Carn an t-Sagairt Mor | Cairngorms | 1047m |
| Carn an Tuirc | Cairngorms | 1019m |
| Carn Aosda | Cairngorms | 917m |
| Carn Bhac | Cairngorms | 946m |
| Carn Dearg (Corrour) | Fort William | 941m |
| Carn Dearg (Loch Pattack) | Cairngorms | 1034m |
| Carn Dearg (Monadhliath) | Cairngorms | 945m |
| Carn Eige | Loch Ness | 1183m |
| Carn Ghluasaid | Kintail | 957m |
| Carn Gorm | Perthshire | 1029m |
| Carn Liath (Beinn a'Ghlo) | Perthshire | 975m |
| Carn Liath (Creag Meagaidh) | Fort William | 1006m |
| Carn Mairg | Perthshire | 1042m |
| Carn Mor Dearg | Fort William | 1220m |
| Carn na Caim | Cairngorms | 941m |
| Carn nan Gabhar | Perthshire | 1121m |
| Carn nan Gobhar (Loch Mullardoch) | Loch Ness | 992m |
| Carn nan Gobhar (Strathfarrar) | Loch Ness | 992m |
| Carn Sgulain | Cairngorms | 920m |
| Chno Dearg | Fort William | 1046m |
| Ciste Dhubh | Kintail | 979m |
| Cona' Mheall | Ullapool | 978m |
| Conival | Ullapool | 987m |
| Creag a'Mhaim | Kintail | 947m |
| Creag Leacach | Cairngorms | 987m |
| Creag Meagaidh | Fort William | 1130m |
| Creag Mhor (Glen Lochay) | Perthshire | 1047m |
| Creag Mhor (Meall na Aighean) | Perthshire | 981m |
| Creag nan Damh | Kintail | 918m |
| Creag Pitridh | Fort William | 924m |
| Creise | Fort William | 1100m |
| Cruach Ardrain | Loch Lomond | 1046m |
| Derry Cairngorm | Cairngorms | 1155m |
| Driesh | Angus | 947m |
| Druim Shionnach | Kintail | 987m |
| Eididh nan Clach Geala | Ullapool | 927m |
| Fionn Bheinn | Torridon | 933m |
| Gairich | Fort William | 919m |
| Garbh Chioch Mhor | Fort William | 1013m |
| Geal Charn | Fort William | 1049m |
| Geal Charn (Monadhliath) | Cairngorms | 926m |
| Geal-charn (Alder) | Cairngorms | 1132m |
| Geal-charn (Drumochter) | Cairngorms | 917m |
| Glas Bheinn Mhor | Fort William | 997m |
| Glas Maol | Cairngorms | 1068m |
| Glas Tulaichean | Perthshire | 1051m |
| Gleouraich | Fort William | 1035m |
| Gulvain | Fort William | 987m |
| Inaccessible Pinnacle | Islands | 986m |
| Ladhar Bheinn | Fort William | 1020m |
| Lochnagar | Cairngorms | 1155m |
| Luinne Bheinn | Fort William | 939m |
| Lurg Mhor | Torridon | 986m |
| Mam Sodhail | Loch Ness | 1181m |
| Maoile Lunndaidh | Torridon | 1007m |
| Maol Chean-dearg | Torridon | 933m |
| Maol chinn-dearg | Kintail | 981m |
| Mayar | Angus | 928m |
| Meall a'Bhuiridh | Fort William | 1108m |
| Meall a'Choire Leith | Perthshire | 926m |
| Meall a'Chrasgaidh | Ullapool | 934m |
| Meall Buidhe (Glen Lyon) | Perthshire | 932m |
| Meall Buidhe (Knoydart) | Fort William | 946m |
| Meall Chuaich | Cairngorms | 951m |
| Meall Corranaich | Perthshire | 1069m |
| Meall Dearg (Aonach Eagach) | Fort William | 953m |
| Meall Garbh (Ben Lawers) | Perthshire | 1118m |
| Meall Garbh (Carn Mairg) | Perthshire | 968m |
| Meall Ghaordaidh | Perthshire | 1039m |
| Meall Glas | Loch Lomond | 959m |
| Meall Gorm | Ullapool | 949m |
| Meall Greigh | Perthshire | 1001m |
| Meall na Teanga | Fort William | 918m |
| Meall nan Ceapraichean | Ullapool | 977m |
| Meall nan Eun | Fort William | 928m |
| Meall nan Tarmachan | Perthshire | 1044m |
| Monadh Mor | Cairngorms | 1113m |
| Moruisg | Torridon | 928m |
| Mount Keen | Angus | 939m |
| Mullach an Rathain (Liathach) | Torridon | 1023m |
| Mullach Clach a'Bhlair | Cairngorms | 1019m |
| Mullach Coire Mhic Fhearchair | Ullapool | 1019m |
| Mullach Fraoch-choire | Kintail | 1102m |
| Mullach nan Coirean | Fort William | 939m |
| Mullach nan Dheiragain | Loch Ness | 982m |
| Na Gruagaichean | Fort William | 1056m |
| Ruadh Stac Mor | Ullapool | 918m |
| Ruadh-stac Mor (Beinn Eighe) | Torridon | 1010m |
| Sail Chaorainn | Kintail | 1002m |
| Saileag | Kintail | 956m |
| Schiehallion | Perthshire | 1083m |
| Seana Bhraigh | Ullapool | 926m |
| Sgairneach Mhor | Cairngorms | 991m |
| Sgiath Chuil | Loch Lomond | 921m |
| Sgor an Lochain Uaine | Cairngorms | 1258m |
| Sgor Gaibhre | Fort William | 955m |
| Sgor Gaoith | Cairngorms | 1118m |
| Sgor na h-Ulaidh | Fort William | 994m |
| Sgorr Dhearg (Beinn a'Bheithir) | Fort William | 1024m |
| Sgorr Dhonuill (Beinn a'Bheithir) | Fort William | 1001m |
| Sgorr nam Fiannaidh (Aonach Eagach) | Fort William | 967m |
| Sgorr Ruadh | Torridon | 962m |
| Sgurr a'Bhealaich Dheirg | Kintail | 1036m |
| Sgurr a'Chaorachain | Torridon | 1053m |
| Sgurr a'Choire Ghlais | Loch Ness | 1083m |
| Sgurr a'Ghreadaidh | Islands | 973m |
| Sgurr a'Mhadaidh | Islands | 918m |
| Sgurr a'Mhaim | Fort William | 1099m |
| Sgurr a'Mhaoraich | Fort William | 1027m |
| Sgurr Alasdair | Islands | 992m |
| Sgurr an Doire Leathain | Kintail | 1010m |
| Sgurr an Lochain | Kintail | 1004m |
| Sgurr Ban | Ullapool | 989m |
| Sgurr Breac | Ullapool | 999m |
| Sgurr Choinnich | Torridon | 999m |
| Sgurr Choinnich Mor | Fort William | 1094m |
| Sgurr Dubh Mor | Islands | 944m |
| Sgurr Eilde Mor | Fort William | 1010m |
| Sgurr Fhuar-thuill | Loch Ness | 1049m |
| Sgurr Fhuaran | Kintail | 1067m |
| Sgurr Fiona (An Teallach) | Ullapool | 1060m |
| Sgurr Mhic Choinnich | Islands | 948m |
| Sgurr Mor | Ullapool | 1110m |
| Sgurr Mor (Beinn Alligin) | Torridon | 986m |
| Sgurr Mor (Loch Quoich) | Fort William | 1003m |
| Sgurr na Banachdich | Islands | 965m |
| Sgurr na Carnach | Kintail | 1002m |
| Sgurr na Ciche | Fort William | 1040m |
| Sgurr na Ciste Duibhe | Kintail | 1027m |
| Sgurr na Lapaich | Loch Ness | 1150m |
| Sgurr na Ruaidhe | Loch Ness | 993m |
| Sgurr na Sgine | Kintail | 945m |
| Sgurr nan Ceathreamhnan | Loch Ness | 1151m |
| Sgurr nan Clach Geala | Ullapool | 1093m |
| Sgurr nan Coireachan (Glen Dessary) | Fort William | 953m |
| Sgurr nan Coireachan (Glenfinnan) | Fort William | 956m |
| Sgurr nan Conbhairean | Kintail | 1109m |
| Sgurr nan Each | Ullapool | 923m |
| Sgurr nan Eag | Islands | 924m |
| Sgurr nan Gillean | Islands | 964m |
| Sgurr Thuilm | Fort William | 963m |
| Slioch | Torridon | 981m |
| Spidean a'Choire Leith (Liathach) | Torridon | 1055m |
| Spidean Coire nan Clach (Beinn Eighe) | Torridon | 993m |
| Spidean Mialach | Fort William | 996m |
| Sron a'Choire Ghairbh | Fort William | 937m |
| Stob a'Choire Mheadhoin | Fort William | 1106m |
| Stob a'Choire Odhair | Argyll | 945m |
| Stob Ban (Grey Corries) | Fort William | 977m |
| Stob Ban (Mamores) | Fort William | 999m |
| Stob Binnein | Loch Lomond | 1165m |
| Stob Choire Claurigh | Fort William | 1177m |
| Stob Coir an Albannaich | Fort William | 1044m |
| Stob Coire a'Chairn | Fort William | 981m |
| Stob Coire an Laoigh | Fort William | 1116m |
| Stob Coire Easain | Fort William | 1115m |
| Stob Coire Raineach (Buachaille Etive Beag) | Fort William | 925m |
| Stob Coire Sgreamhach | Fort William | 1072m |
| Stob Coire Sgriodain | Fort William | 979m |
| Stob Daimh | Argyll | 998m |
| Stob Dearg (Buachaille Etive Mor) | Fort William | 1021m |
| Stob Dubh (Buachaille Etive Beag) | Fort William | 956m |
| Stob Ghabhar | Argyll | 1090m |
| Stob na Broige (Buachaille Etive Mor) | Fort William | 956m |
| Stob Poite Coire Ardair | Fort William | 1054m |
| Stuc a'Chroin | Perthshire | 975m |
| Stuchd an Lochain | Perthshire | 960m |
| The Cairnwell | Cairngorms | 933m |
| The Devil's Point | Cairngorms | 1004m |
| The Saddle | Kintail | 1010m |
| Toll Creagach | Loch Ness | 1054m |
| Tolmount | Cairngorms | 958m |
| Tom a'Choinich | Loch Ness | 1112m |
| Tom Buidhe | Cairngorms | 957m |
| Tom na Gruagaich (Beinn Alligin) | Torridon | 922m |