Links Between Scotland and New Zealand
Scotland and New Zealand may be separated by 11,352 miles of land and and sea, but life in both of these countries is not actually as worlds apart as you may assume.
Several hundred years ago, Scots were among the first European settlers to New Zealand, and their influence can still be felt throughout the country today.
In this article we've had a look at some of the links and connections between Scotland and New Zealand today, but we'd love to hear if you can think of any more too!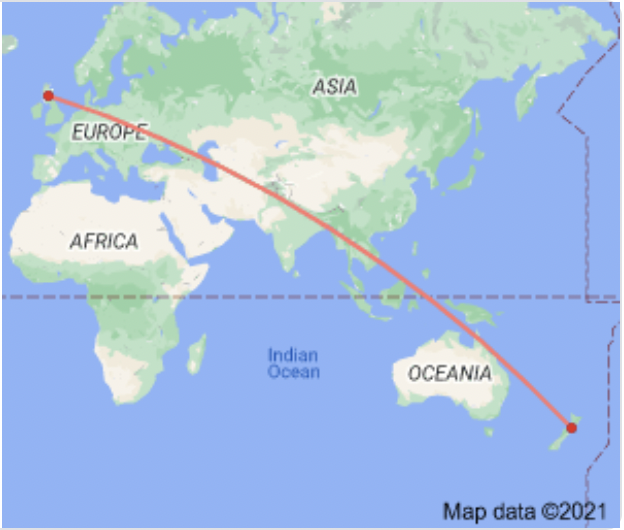 ---
Migration and Settlement
Scottish migration to New Zealand dates back to the earliest period of European colonisation and the majority of Scottish immigrants settled in the South Island.
The majority are descendants from those who emigrated to Australia and New Zealand during the 19th century gold rushes.
But, although the exact numbers of people with Scottish heritage living in New Zealand today is difficult to ascertain, it is believed that somewhere between 1 and 2 million New Zealanders can claim Scottish ancestry. In a country with a population of 5 million, that's a lot!
The first Scots to set foot in New Zealand were among the crew of Captain Cook's ship Endeavour in 1769. Approximately 20 per cent of the original European settler population of New Zealand came from Scotland, and the Scottish influence is still visible throughout the country.
If you think you might be one of the lucky people who's family has links to Scotland, you can find out more about how to research your family's ancestors HERE.
---
Scottish Culture in New Zealand
Today, if there is any part of New Zealand which can be described as having a "stronghold" of Scottish culture, it would be in the regions of Southland Otago.
Here it wouldn't be unheard of to witness many kinds of Scottish celebrations, from bagpiping pipe bands to Burns Suppers, as well as Ceilidhs, sports events inspired by the Highland games, and a big old fuss made at Hogmanay.
Some regions of New Zealand even have their own tartan, such as Otago. Additionally Scottish dress is worn by some New Zealanders to celebrate their ancestral heritage.
Some parts of South Island even have a rhotic accent called Southland burr, reflecting an influence from Lowland Scots Scottish English , although this is less pronounced than in Scotland itself.
Dunedin, the second largest city In the South Island of New Zealand, is Gaelic for Edinburgh and is known as the Edinburgh of the south. Dunedin is twinned with the Scottish capital city. The city's main rugby team is the Otago Highlanders, reflecting the city's Scottish roots.
---
Contributions
In the 18th century, New Zealand offered Scottish migrants the opportunity for a better life – and many were excited by the chance to shape a new society.
Whilst there are always different kinds of people in every group, there were certain values that really marked the Scottish migrants to New Zealand out as a group. One of these was a belief in education and equal opportunity for all, and another was a notable sense of personal and social responsibility.
The Scots quickly set about establishing in their new country the educational and scientific institutions that they had valued in their own homeland, and many of these infrastructures still stand in the towns and cities as they are today.
The Scots were also energetic players in the major debates of the times, including the debate about alcohol. They were on both sides of the argument, some vigorously against alcohol, others manufacturing it – legally or illegally.
---
The Legend of James McKenzie
It was a Scot who was to become one New Zealand's most enduring folk heroes. Mckenzie emigrated to Australia around 1849, arriving in Melbourne where he purchased a team of bullocks for carrying goods to the gold-diggings. He managed to save £1,000 and moved to New Zealand, arriving at Nelson. McKenzie worked as a drover in Canterbury before moving on to Otago where he applied for a land grant in the Mataura district.
In March 1855, Mckenzie was caught stealing 1,000 sheep from Levels Station, north of Timaru. After escaping his accusers, he walked 160 kilometres (100 mi) to Lyttelton, where he was caught by the police. He was subsequently sentenced to five years hard labour after being found guilty by a Lyttelton Supreme Court jury in April 1855.
Mckenzie escaped from prison on at least two occasions, neither escape lasting more than three days, after which he was placed in irons and closely watched. In September 1855, the Christchurch resident magistrate investigated Mckenzie's case and found serious flaws in the police inquiry and trial. Mckenzie was given an unconditional pardon on 11 January 1856 after spending only nine months in prison.
---
New Zealand English
Scotland and New Zealand are both English speaking countries- but both have their own unique twist on the language, as well as their own distinctive accents.
Some words which you may have heard before if you have friends that are Kiwis, that occur more frequently in NZ English than in other varieties of English are listed below. Many of these terms were introduced into NZ English during its early period, when it had little contact with British or American English.
barrack- to shout or jeer (at players in a game, etc.)
bowyang- a band or strip which prevents trousers from dragging on the ground
burl- a try or attempt, as in give it a burl
chook- a chicken
dunny- a lavatory
larrikin- a hooligan
lolly- a sweet of any kind, especially the boiled kind
Rafferty's rules- no rules at all
smooge- a display of amorous affection
wowser- a killjoy or spoilsport.
If you'd like to read more about some of the unique words adopted across Scotland, you may enjoy this article about Scottish slang, HERE.
---
Kiwis here now
It is estimated that around 4000 people who were born in New Zealand are now residing in Scotland, and the number appears to be increasing each year.
---
Curling
The sport of curling is played on ice, usually in a rink with dimensions that are larger than those used for hockey. The game consists of two teams throwing stones or "curls" at an opposing stone called the 'boule' to knock it out of play and score points by knocking down other rocks as they travel along the ice surface towards their opponents' goal.
The game of curling was first played in Scotland around 1750. The earliest known reference to a game called "curle" is from an 18th century newspaper article describing how a group of young men were playing it on the banks of the River Clyde near Glasgow, and that they had been drinking heavily beforehand! It seems likely that this early form of the sport may have originated as a children's game similar to rounders or marbles.
The first officially recorded games were held in Scotland during the 17th century. In 1842, James Grant was credited as being the inventor of modern-day curling after he introduced it to his native Glasgow. He had been playing a similar game using wooden blocks since childhood. His invention consisted of rolling small balls down a sloped surface towards a goal. This new form of play soon spread throughout Britain and eventually became popular worldwide.
One of the places that really took this Scottish born sport into their hearts was New Zealand. You can follow their success in the sport HERE.
---
Rugby
A shared passion for the sport of Rugby is one of the first things that sprang to mind for me when I started thinking about links between Scotland and New Zealand. Both countries have incredible national teams which have been doing very well in recent tournaments, and it is one of the main sports taught to children at school from a young age.
Many New Zealanders have played rugby for Scotland, being dubbed 'The Kilted Kiwis', including John Leslie and his brother Martin, and the original 'Kilted Kiwi' Sean Lineen, who all qualified through their paternal grandfathers who were Scottish.
Did you know?
• In 2010, Scottish players made up nearly half of all internationals played by New Zealanders.
• More than one-third of all international matches between Scotland and New Zealand were won by the Scots.
• Of those games, Scotland has beaten their Kiwi counterparts on 12 occasions – including three wins at Murrayfield.
• There are currently four former All Blacks playing for Glasgow Warriors: Colin Slade, Richie Gray, Sean Lamont and Finn Russell.
---
Differences between Scotland and New Zealand
There are some things that are never going to be the same in Scotland and New Zealand, no matter how many similarities we can find… like the climate for example! In Scotland it is largely cool and wet, and New Zealand has limited rainfall, mild temperatures and abundant sunshine.
And Irn Bru- for some reason one of our greatest Scottish accolades hasn't taken off down under yet!
The wildlife in both countries is abundant and fascinating, but where as you will find cows in abundance in Scotland it is more likely to be sheep holding up the traffic in New Zealand.
If you'd like to hear a New Zealanders take on some of their experiences from visiting Scotland, CHECK THIS OUT.