Laird / Lady / Lord of Glencoe
The styles Lord of Glencoe, Laird of Glencoe and Lady of Glencoe remain the registered trademarks of Highland Titles.
Between 2006 and August 2023, we invited all of our customers to style themselves as Laird, Lord or Lady of Glencoe.
The village of Glencoe (and of course the historic landmark Glen Coe) are just 10 miles away from our nature reserve, and in order to celebrate the local heritage, the first woodland we named at Duror was 'Glencoe Wood'.
---
History of Glencoe
Glencoe is a glen (a deep valley) located in Scotland, specifically in the Scottish Highlands. The name "Glencoe" comes from the Gaelic language. In Gaelic, it is known as "Gleann Comhann," which translates to "Glen of Weeping" or "Glen of Mourning."
The name is linked to a tragic historical event known as the "Massacre of Glencoe," which occurred in 1692. The Massacre was a result of the long-standing conflict between the Scottish clans and the British government following the Glorious Revolution of 1688. In this event, members of the MacDonald clan, who lived in Glencoe, were targeted and attacked by soldiers under the orders of the British government. Many members of the clan were killed, and others died while trying to escape the harsh winter conditions.
The name "Glencoe" became etched in history due to this devastating event, and it continues to hold historical and cultural significance for Scotland. The glen itself is renowned for its stunning natural beauty, attracting tourists and hikers from all over the world.
---
Changes in 2023
Naturally, having sold plots from Duror since 2006 there was going to come a time when we ran out.
In 2023, we started selling all of our plots from the Kilnaish Estate in Argyll, inviting all of our customers to use the styles Lord of the Glen, Laird of the Glen and Lady of the Glen instead of Laird/Lord/Lady of Glencoe.
This makes no difference at all to existing customers. Laird/Lord/Lady of Glencoe are still our registered trademarks, and our customers have permission to use them in perpetuity.
Our logo has also changed. Our old logo was based on a Scottish clan buckler, but our new logo is much more modern.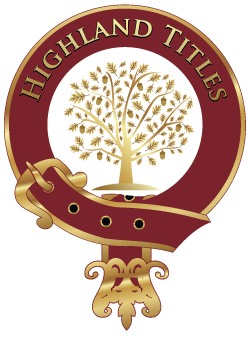 Our logo until September 2023
Our new logo from September 2023