Mountainview, near Invergarry
The second Highland Titles estate, made possible by your ongoing support.
Plots of land were sold here between 2014 and 19/10/2021
Beautiful views overlooking Loch Loyne
Bumblebee Haven project
Mountainview, like so much of the Highlands, was nothing more than a poorly performing commercial sitka plantation when we bought it in 2014.
Expert opinion at the time was that felling the sitka would be commercially viable in 2019-20. Sadly, in 2020 we were told it would likely be another 5 years before we could replace the sitka with a variety of thoughtfully planted native trees, bushes and wildflowers.
We subsequently got to work on an unplanted area, and with the advice of the Bumblebee Conservation Trust and the help of some volunteers, we fenced several acres of land and planted over 1500 trees which will provide shelter for wildlife.
The estate at Mountainview overlooks the majestic Loch Loyne. Known to fishermen as one of the best pike lochs in the Highlands, our lairds are able to enjoy the opportunity to explore the area and fish the loch whenever they visit.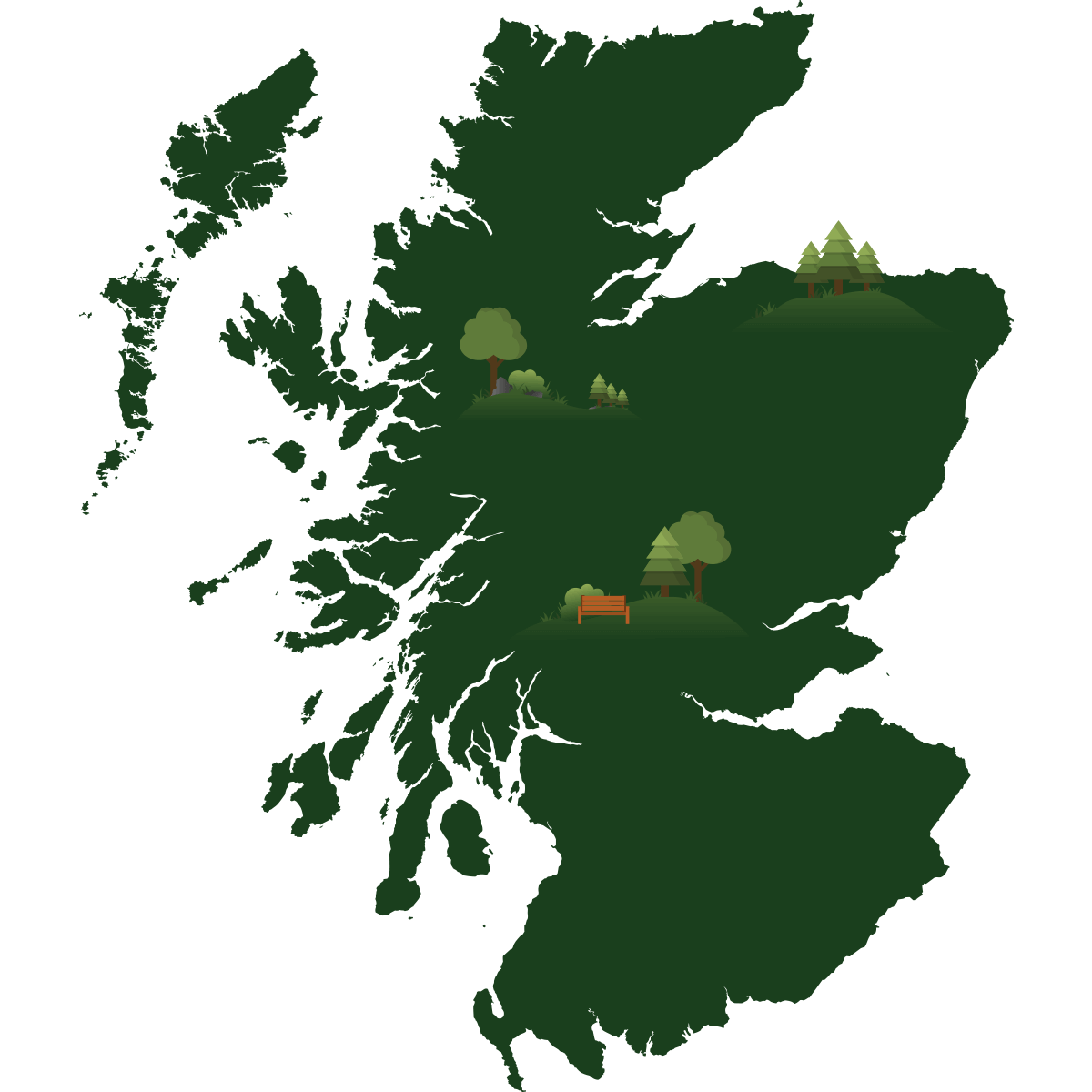 Mountain View
Opened by Highland Titles in 2014, the reserve at Mountain View, which is also the home of Bumblebee Haven, overlooks the majestic Loch Loyne.
Visit Mountainview, near Invergarry
Mountainview benefits from a well-made trail to explore. Whilst you are more than welcome to visit Mountainview, we like to make sure that our visitors know that the only Visitor Centre is located at the nature reserve at Duror, near Glencoe. Because of this, there is no Guided Tour service available when coming to Mountainview.
Mountainview is also home to many species and animals that we prefer to leave untouched as they settle into their new homes, so we do ask that you stay an acceptable distance away from any wildlife that you may come in contact with at the reserve.
We partnered with the Bumblebee Conservation Trust to come up with a plan for this area, where we have put up deer-proof fencing and planted lots of native trees, plants and hedges which will provide vital habitat for the declining bee population.
Saying that, the area is quite easy to reach and is a great way to spend a day hiking and fishing and we do encourage all to visit their plots that are found in this area.
1 hour from Inverness
50 minutes from Fort William
3.5 hours from Edinburgh
Activities in and around Mountainview
Can you spot the 6 species of bumblebees that inhabit the land?
Enjoy a picnic and try to your hand at fishing on the shores of Loch Loyne
Stay in Lochaber or nearby Fort William – and see what the Outdoor Capital of the UK has to offer
Take a drive to the nearby village of Fort Augustus, located at the foot of the world famous Loch Ness. Take a boat trip and perhaps get a glimpse of the mysterious Nessie!
Visit the ruins of nearby Invergarry Castle
Take a lovely riverside walk along the River Garry, or one of the many well marked Forestry Commission walks in the area.
Finding the reserve
Mountainview
Park on the A87 on the Eastern shore of Loch Loyne
Invergarry, Highland
PH35 4HR
Tel: 01631 740333
To find our car park, set your GPS for [57.1081092,-4.98560113]
The location of the reserve on What3Words is:
///troubled.necklace.engineers
(Do NOT use the postcode in a SatNav to locate the reserve. Rural postcodes in the Scottish Highlands cover several square miles and cannot be used in Sat Nav systems for precise navigation. The postcode is offered to help you get close to the reserve, but please use a map once you get close.  Do NOT turn off the main A87 road, but follow it along the side of Loch Loyne until you see the car park and Nature Reserve sign on the lower (loch) side of the road.)
Transport
Arrive by car
Mountainview is located approximately 10 miles north east of Invergarry on the A87. This would be the easiest way to travel to the reserve, as public transportation is almost non-existent in this area of the Scottish Highlands. It also allows for more exploration, as we're sure you'll want to pull over for pictures at least every few miles!
Arrive by rail
There are no rail stations in Invergarry, therefore the nearest stations would be in Spean Bridge (approximately 16 miles from Invergarry) and Inverness (approximately 41 miles away). Taxis are not available in these villages. Unless you have other transportation organised, we wouldn't necessarily recommend this mode of travel to reach Lochaber.
Arrive by bus
Buses leave from Edinburgh, Glasgow and Inverness and make stops in Invergarry. Refer to Citylink to check times. Further transportation would need to be organised to reach the reserve, though.
Nearby airports
Glasgow (3 hours)
Edinburgh (3 hours 25 mins)
Inverness (1 hour 25 mins)