Stirling Castle: History, Hidden Highlights and Heritage
High above Scotland's once capital city, sits the impressive Stirling Castle. It has been an important fortification for Scotland in centuries gone by, and there are even some remaining parts of the castle from the 14th century present today. The castle has withstood eight sieges, many of which occurred during the Wars of Scottish Independence.
With three steep sides surrounding the castle, it sits in a strong defensive position atop a crag overlooking the city of Stirling. Stirling is located in central Scotland, 26 miles north-east of Glasgow and 37 miles north-west of Edinburgh. Find out more about the city of Stirling here.
Prior to Scotland's union with England, Stirling Castle was frequently used as a royal residence. Many kings and queens were crowned at the castle, including one of Scotland's most famous monarchs, Mary, Queen of Scots.
The importance of Stirling Castle's position is apparent from the often quoted phrase from centuries past; "he who holds Stirling, holds Scotland".
Today, Stirling Castle is managed by Historic Environment Scotland and is visited by an estimated half a million visitors annually. With a packed calendar of events, it's the ideal setting for a night out to a concert, a fun-packed family trip, and, for many couples, it even makes the perfect wedding venue.
A Brief History of Stirling Castle
The first written account of Stirling Castle occurred in 1107, when Alexander I wrote of a chapel on the spot where the castle now stands. In 1174, the castle was handed as a ransom to Henry II of England in exchange for William the Lion, the then King of Scotland.
The castle returned to Scottish ownership in 1297, when William Wallace and Andrew Moray defeated the English at the very first battle of Scottish independence – the Battle of Stirling Bridge. This has become a world famous battle as it was the first major Scottish victory in the Wars of Independence, placing the country back under Scottish control and raising William Wallace to a position of political dominance.
However, the castle returned to English hands under attack from Edward I in 1304, only to be reclaimed by Robert the Bruce following the 1314 Battle of Bannockburn. Indeed, Stirling Castle went back and forth between English and Scottish ownership throughout the Scottish Wars of Independence, when various sections of the building were destroyed and subsequently rebuilt.
The Stewart dynasty made big changes to Stirling Castle, both architecturally and in terms of positioning the castle as a principal royal centre throughout their reign. James IV, James V and James VI undertook work at the castle which can be enjoyed today in the form of the King's Old Building, the Forework and the Great Hall, as well as renovating the chapel.
James V's daughter Mary, Queen of Scots was brought to Stirling Castle for protection and her coronation in 1543. Mary spent some of her childhood there, as well as returned later in life to live with her husband Henry Stuart.
In 1617, a great deal of money was spent on the castle in preparation for the visit of James VI, also known as James I of England. Throughout the 17th century, Stirling Castle became more of a military fortress than a royal residence and became a prison for Covenanters. Further defences were added to the castle to protect it during the Jacobite risings between 1688-1746. From 1800, Stirling Castle was mainly used as a war office and barracks, up until the 20th century when it was restored to much of its former glory.
As well as stories of battles and royals, if Stirling Castle's walls could talk they'd likely tell you a few unusual tales too. Such as when, in 1507, the castle's Italian alchemist John Damian attempted to fly from the battlements with wings made from feathers… but only managed to break his thigh.
Or one of the lesser-known facts about Stirling Castle, is that the oldest football in the world was discovered there within the Queen's Chamber – a bedroom once used by Mary, Queen of Scots herself. Experts believe football probably dates back to around 1540-1570.
Stirling Castle Highlights
With so much to see and do at Stirling Castle, you won't want to miss a thing. Here are some of the best bits that you simply must see during your visit:
The Great Hall
Step inside the largest banqueting hall of its kind in Scotland and imagine the feasts and dances that once filled the room. Created by James IV, this impressive place was heated with five enormous fireplaces and the walls are rendered in Royal Gold harling.
The Royal Palace
Every inch as regal as you would expect a Royal Palace to be, this section of Stirling Castle has been carefully restored to accurately depict the decor and furnishings of when Mary, Queen of Scots lived in the castle as a child. Dripping with rich Renaissance glamour, this section of Stirling Castle is a must-see.
Queen Anne Gardens
On a sunny day, there are few things more enjoyable than a stroll around the peaceful Queen Anne Gardens which lie on the south side of Stirling Castle. Be sure to pass by the 200-year-old beech tree.
The Great Kitchens
Experience castle life as it was for the normal men, women and children who prepared great feasts for the Royals. This section is brought to life with scenes set up depicting life in the Great Kitchen.
In addition to all these highlights, there are educational exhibitions on throughout the year and plenty of activities to keep you entertained. The Palace Vaults bring to life the history of the castle for younger visitors, while the Access Gallery is ideal for anyone with mobility issues to enjoy the full Stirling Castle experience.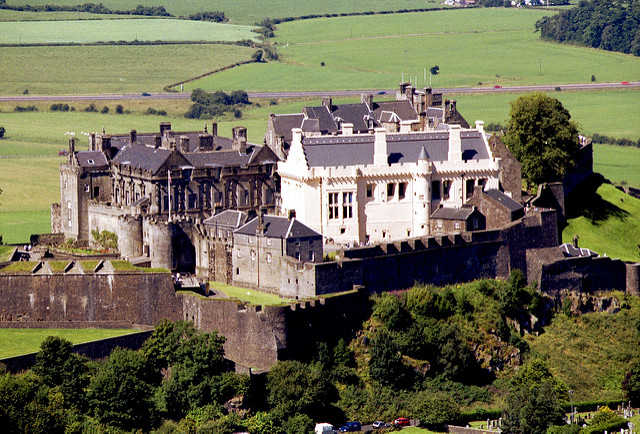 Stirling Castle ghosts
There are 3 ghosts inhabiting the castle, the most famous of which is the ghost of the Green Lady. She usually can be seen shortly before unfortunate events take place. The other two are the Pink Lady that can be seen walking the grounds, and the male ghost in a Highland kilt that appears near the dungeon.
Plan your visit to Stirling Castle
Stirling Castle is open throughout the year from 9.30am – 5-6pm, and easy to reach by both public transport or car thanks to its proximity to Stirling city centre. It is located just 1 hour and 15 minutes away from Edinburgh. There's a paid car park on site, or a bus runs from the city centre during the busier summer months. You can buy tickets at the gates, although during busy periods it's advisable to buy your tickets in advance and skip the queues. Tickets start at £15 for adults, and £9 for children, with concessions available at £12. For refreshments, the Unicorn Cafe is a lovely place to relax for a while and grab a bite to eat.
Whether you're visiting Stirling Castle for the first time, or you're heading back for more, there's always something new to discover at one of Scotland's most loved visitor attractions.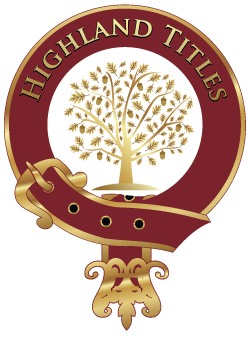 Brought to you by Highland Titles
This article is part of our Guide to Scottish Castles, a collection of must-see castles in Scotland. Highland Titles mission is to conserve Scotland, one square foot at a time™. By selling souvenir plots of land, we are funding our Nature Reserves and conservation projects.